BOOK ROOM
Hotel
History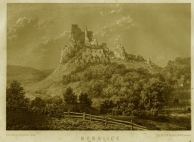 Bobolice is a small village located at the heart of the Polish Jura, deep in the lime monadnocks. The origin of the village is inextricably linked to the history of the Castle. Bobolice Castle was built in the early 14th century by king Casimir III the Great. It was erected as part of the Jurassic defensive system, which protected the Western border of the state.

Along with the castle, settlement developed in Bobolice. Villages inhabited by craftsmen, traders and farmers traditionally surrounded fortresses such as Bobolice. Below the castle there were a smithy, a brewery, an inn and other farmsteads. Over the centuries both the village and the castle changed hands several times. On the turn of the 14th and 15th century, Bobolice was part of the royal properties, and was later passed on to the Szafrańscy family, the Krezowie family, the Myszkowscy family or the Męcińscy family. Currently the castle belongs to the Lasecki family.

The castle and its surrounding suffered heavily during repeated invasions. The most dramatic of the invasions was the Swedish Deluge, which took place in the 16th century and left the castle in a state of great destruction. From that time onwards the castle continued to deteriorate in its state. The last glorious chapter of the history of Bobolice was written by king John III Sobieski, who spend a night in a tent below the castle while travelling towards Cracow to assemble his troops before the Battle of Vienna.

Now, after years of reconstructions, Bobolice Castle has been returned to its former glory. As in the centuries before, the development of the castle provokes the development of the whole neighbourhood. Not only does the village of Bobolice now boast a hotel and restaurant, but it has also become one of the most popular and attractive places on the tourist map of Poland.